sleepless in chennai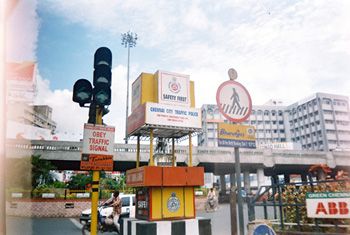 Departure in Jakarta was around 19:30, after two hours flight, then transit for an hour or so in Changi, Singapore. Around midnight the plane left for Bandaraneike, Sri Lanka. Transit for four hours or so. Bandaraneike airport was a lot better than I expected. If you had to stay for a long transit at Bandaraneike, worry not, they have all the basic standard for an international travellers to survive 1 x 24 hours in an airport.
Arrival in Chennai around lunch time, then straight to this disaster mitigation seminar. Sri Lankan Airlines is using Emirates' plane, can't complain for the service and airline food, although the chair is a bit high. The time difference killed us. Chennai was warm on that April Fool's Day.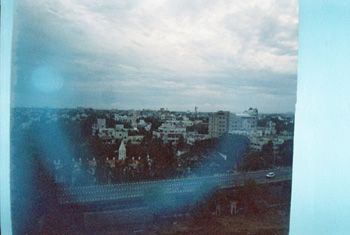 Chennai in Blue
Chennai was warm and huge billboards of Shahrukh Khan sporting the new edition of Tag Heuer watch is everywhere. Food is damn good. My colleague and I stayed at Savera Hotel. Oh well, can't complain for the facilities. Pretty okay, although I'd argue that Indonesia has a lot better standard in hospitality industry. Tata Motors was huge. City cars bearing its brand were everywhere. Petrol is pretty expensive, for around 50 INR (Indian Rupee) per litre, it's around four times higher than Indonesia's.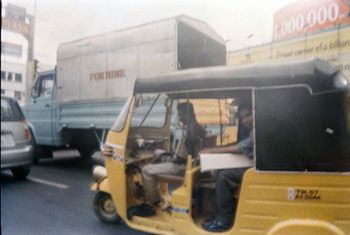 "Auto" is a "bajaj", it's the same word that we're using in Indonesia for a three-wheels motorized rickshaw. It costs you around 40 INR (Indian Rupee. US$ 1 = around 44 INR) for an hour of city tour. We kept getting offer of "tsunami areas. I'll take you to tsunami areas.." Geez, man.. I've been dealing with Banda Aceh and Meulaboh since December 26, been there seen the spot and is part of the operation. Enough said about tsunami. No, we do not want to see any tsunami-hit areas in Chennai. We're from Indonesia. So the "auto" driver that we rented for 40 INR per hour took us somewhere else. We were not that keen to have a closer look at Chennai since we only had 12 hours left. We only wanted to go to book shops!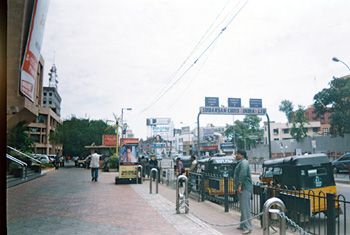 We spent almost five hours in "Landmark", a national-chain book store in "Spencer Mall", a shopping center somewhere in the downtown area. "
Landmark
" was impressive!!! Up until now I still wonder how did India did that. Super cheap books. Even imported ones from UK and The States. I spent a total of 5,000 INR for books. Dunno how much in US$. All for novels and stuff. I emptied a shelf of Haruki Murakami's books, then some other books that I've been wanting to buy but didn't have the time to hunt: The Quiet American & The Catcher in the Rye. They only had one Douglas Coupland's book: All Family is Psychotic. Clancy's most recent "Teeth of the Tiger" was also there. Then the 15 INR current affairs magazines stole my attention. How did they do that? 15 Rupees for a handsome magazine. I took all three of them: "The Outlook" and two others, plus a management magazine. Last but not least, my favorite cartoon strip: Calvin and Hobbes. Hillarious Hobbes! ;)
With a more than content heart, I went to a nearby department store to buy a gym back to stuff my books.. Both my colleague and I went out from Spencer Mall grinning. We were actually grinning ears to ears all the way back to Jakarta..
Labels: place