lychee-martinis frenzy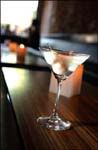 image source:
http://media.mnginteractive.com/media/paper36/rickbar0625.jpg
four martinis and three lychee syrup.
several ice cubes and pinapple-filled lychees.
wide cocktail glasses. all for two.
flowing from five to nine.
it's the lychee-martini frenzy evening@wwwok.
the only cafe dubbed as noodle bar at kemang that serves a kicking "virgin suicide"
located by the only Islamic school in kemang.
lychee-martini has casted its spell to a group of yuppies hanging out on the plush red sofas and
the so-called "bale-bale". chill out tunes a la the hip "les nubians" are in the air.
i still don't get it though. why lychee? why martini?
why the zinc-scented lychee syrup from the canned lychee in thick syrup.
yet lychee-martinis have beated the free offer of sauteed shrimp wrapped in fried tofu skin and
special offer of absolut vodka mix.
lychees vs absolut peppar. which one would melt warmer in the mouths of sweet-toothed indonesians?
it's the lychee martini night at the chinese-noodle bar turned to chill out pub of wwwok! (read "wok").
good food. good cocktails. friendly service tops it all.
the "virgin suicide" personally mixed by the man who tends the bar gave a feeling of "got my head checked by a jumbo jet".
wwwok! still rocks indeed.
Labels: place