jakarta after hour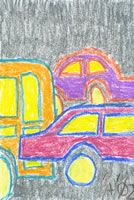 It's Jakarta after hour
The day's work was so so. Everybody was kipbuzzing with their workload.
You are in Jakarta. After coming back from multiple trips in far out places, say Poso, Kupang, Surabaya, North Maluku or Aceh. A little disoriented, perhaps; bored with urban, megapolitan life as well..
This is Jakarta, where..
..everybody's taking bus to work
..buses are mostly more than 20 years old
..people commute from 30-40 kms suburbs to the centrum
..people have lunch in nearby "warung" or cafes or McD joints
..everybody looks like a million dollars in factory-outlets clothings and
Rp. 5,000.00-a-pair of funky slippers and Rp. 25,000.00 handbags
..malls are common weekend and weekdays getaways
..SMS messages are instant, discreet and bull's eye communication tool
(part of being a cool and hip)
..traffic jam is a way of life
..gaps, any gaps you can ever think of if you are observant enough, are everywhere
..buy one get one free, multiple financial rewards, instant credit schemes,
lottery schemes are rampant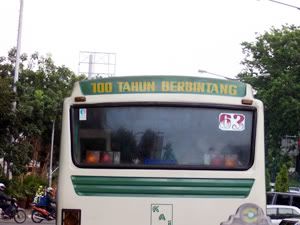 It's Jakarta after hour.
Main road is jammed, bus is stuffed with humans, internet is dead, everybody went home early for whatsoever reasons, and there was only Rp. 10.00 left in your mobile credit. Your childhood home-sweet-home is being renovated. A completely new house with an up-to-date "home improvement" style will be built on it. And you found love letters of your father's secret lover.
Would you..
..flock to the nearest cafe/pub/club?
..run to the nearest mall that will close at 21:30 PM?
..hang out at the nearby book store with comfy loveseats?
..reminiscing the past over some cool jazzy tunes in the book store?
..reading eery titles on the bookshelves?
..get yourself drunk?
..clubbed yoursef to death on Tuesday evening?
..stay in your cubicle for an paid-by-the-office calls to anywhere you want
(even an IDD prank calls)
..walk yourself home/boarding room/rented room/apartment
..fix a quick date with a person you met in a chat room on the net before
the internet died, with whom you have succesfully traded mobile number?
..listening to any new CDs/cassettes on some audio chain store?
..going to this Rp. 3,000.00 per hour cybercafe with a cable connection?
Basically, sharing your private moments with a dozen other people in Jakarta's public commercial space.
Then you realized that you just blocked your credit card cum ATM last night through the net at home because your wallet was stolen on your yearning trip home after you forced yoruself to hop on that human-stuffed 30 years old bus.
You live in Bekasi or Cibubur or Tangerang or Bogor for a change, with only Rp. 10,000.00 left in your pocket. Enough for one way bus fee home, an "angkot" trip and another "ojek" trip, and everything must take place before 22:00 PM, otherwise you will have to walk home due to the "ojek" absence after 21:00 PM. (Although) you wanted so much to stay out as late as possible.
Remember that love letters?
Can you help me out?
Statistical facts which will come in handy in urban-stranded situation:
* Number of employees living nearby office
* Number of after hour support staff (with whom one's relate well is an added value)
* Number of home telephone per person
* Number of mobile phone per person
* Number of public phone booth or communication counters
(read: wartel -- warung telekomunikasi)
* Rate of distance from home to office
* Rate of distance of boss' home to office
* Places to visit after working hours
* Length of traffic jam
* Operational hours of bus
* Operational hours of taxi
* Indicators of streets security from office to home and vice versa
* Number of good griend living nearby office
* Types of facilities provided by financial institution
* Reliability of financial services
* Number of friends with cars/motorbikes
* Number of die-hard friends (you know, those other-sex-group with
sufficient obsession to you and will do ANYTHING on their expense to rescue you
Got anything in mind?
Do tell me.