ketemu pram di la brioche doreé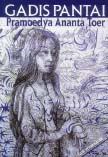 image source:
http://www.physics.uq.edu.au/people/wahyu/read/gadispantai.jpg
"Gue sekarang susah tidur kalo malem. Lu punya buku untuk gue baca, nggak?"
Itu awalnya. Spesifikasinya bukunya apa saja, asal Bahasa Indonesia. Besoknya saya datang dengan beberapa buku. "Catatan Harian Soe Hok Gie", "Salju Kilimanjaro" -- terjemahan tulisan Hemingway dan "Gadis Pantai" Pram.
Worth reading books, lah.
Beberapa minggu setelah itu, teman saya itu 'kecanduan' Pram. Alasannya sesederhana teman saya itu, karena bagus. Semua juga tahu tulisan Pram memang bagus.
So, what's new?
Well, pertama, teman saya itu enggak memilih sendiri buku yang akan dia pinjam. Saya yang memilihkan karena buku-buku itu sudah membuat saya tertidur karena capek berpikir ketika membacanya. Lagi pula, itu buku-buku berbahasa Indonesia yang berada di tumpukan paling atas dari tumpukan buku-buku saya yang enggan saya bereskan.
Teman saya itu mulai baca Pram. Dia baca tetraloginya dulu. Karena menurut dia harus dimulai dari situ. Entah kenapa harus.
Sore itu sedianya kami nonton di Blok M. Tapi karena terlalu malam, perempuan yang tinggal di Bekasi itu menolak meski dibayari karena tidak akan ada bus ke Bekasi dari Blok M setelah pukul 21.30. Saya ajak dia minum kopi di La Brioche Doreé.
She ended up having this Tuna Croissant and Lemon Tea. Of all those sumptuous Quiche!
Ketika dia ke kamar mandi, saya pinjam buku yang dia bawa. Astaga, bukunya Pram lagi! Hadiah ulang tahun dari adiknya. "Percikan Revolusi Subuh". Kumpulan cerpen Pram yang pertama kali terbit tahun 1950. Katanya, untuk dibaca di Patas. Tsk tsk tsk..
Kami jadi duduk satu jam lebih lama gara-gara Pram. Saya duluan yang mengkomentari Pram. Menurut saya, gaya tulisan Pram itu
raw
dan
as is
. Seperti komentar semua orang, menipiskan batas fiksi dan fakta. Seperti buku sejarah dalam kemasan fiksi. Menurut teman saya juga begitu. Dia merasa belajar lebih banyak tentang sejarah Indonesia ketimbang sepanjang masa sekolah formal. Berceritalah dia tentang cerita Pram dari tetraloginya. Dia mengaku baru paham "Politik Etik" dari situ, memikirkan kembali sosok Kartini dari situ dan lain-lain. Orang-orang di dekat kita nampaknya mulai menoleh dengan pandangan agak-agak aneh.
Saya bukan pembaca Pram khususnya. Saya pembaca N.H. Dini, Umar Khayam, SGA dan esei-esei Bre Redana di Kompas. Entah kenapa saya merasa jaga jarak dengan Pram. Dari bicara dengan teman saya itu, sebetulnya saya sih enggak anti Pram.
Saya kurang tertarik karena tindakan 'membaca tulisan Pram' sekarang jadi status 'literer' alias 'gaul sastra' di Indonesia.
"Eh, udah baca buku baru Pramoedya belum? Bagus, loh.." Dan kalau baca tulisan Pram, mendadak dapat cap 'intelek', 'tahu buku bagus', 'baca sastra'. 'Membaca Pram' menjadi status. Waktu lagi getol-getolnya online lewat IRC, dulu ada yang bilang, "Kalau mau tahu sejarah Indonesia, baca Pram, dong!" *dih*
Anno 1998, buku-buku Pram laris manis bersaing dengan komik Crayon Sinchan, meski tahun 2001 kemarin buku-bukunya sempat diamankan dari pasar buku. Bagian dari euforia reformasi? Barangkali.
Tapi itu tadi yang menyebalkan bagi saya: mendewakan Pram. Tulisannya memang kuat. Solid.
Raw
.
Original
. Tapi bagi saya, Pram seharusnya tidak usah didewakan atau diberi label 'gaul sastra'.
Kalau orang bilang baca Pram seperti baca sejarah Indonesia, itu sah-sah saja. Tapi meninggikan Pram dan menepikan yang lain, itu yang agak enggak kena di otak saya.
Bagi saya, Pram muncul pada jamannya. Seperti juga penulis mana pun di bumi. Jadi, bukan cuma Pram yang menulis tentang Indonesia. Kalau mau ngaku 'baca sastra Indonesia', baca dong Hamka, Abdul Muis, STA, A.A. Navis, Budidharma, Mochtar Lubis, N.H. Dini, Umar Khayam sampai SGA. Buat saya mereka semua menulis fakta. Bercerita tentang suatu masa. Rekaman sejarah juga. Muis dengan "Salah Asuhan", Hamka dengan "Van der Wijk", Navis dengan "Robohnya Surau Kami", Lubis dengan "Senja di Jakarta", Dini dengan serial "semi-otobiografi"nya, Khayam dengan kumpulan eseinya, SGA dengan gambaran urban dan
quote
"kalau pers dibungkam, sastra angkat bicara" (maaf kalau salah. saya cuma ingat
quote
ini ada di bukunya: "Jazz, Parfum dan Insiden").
What's so big about Pram?
Karena karyanya yang dipolitisir? Menurut saya begitu. Pram adalah orang yang tepat, muncul pada waktu yang tepat dan berada di tempat yang tepat. Ia betul-betul orang yang menjalani sendiri penindasan kekuasan dan perampasan hak-hak. Tulisannya meramu dengan baik fiksi dan fakta (baca: sejarah) -- sehingga orang bingung membedakan apakah dia sedang baca cerita atau sejarah.
Penulis-penulis yang lain -- barangkali karena eksposenya kurang heboh ketimbang Pram barangkali -- membuat saya enggak tahu apakah mereka korban kekuasaan atau bukan. Intinya, bagi saya mereka semua sama saja. Penulis-penulis terbaik Indonesia yang merekam sejarah negara dan bangsa yang carut-marut ini. Dengan caranya sendiri. Dari sudut pandangnya sendiri.
Konyol banget kalau sok bangga mengaku-aku baca Pram tapi enggak tahu Mochtar Lubis atau Armijn Pane. Terus kalau baca Pram memangnya kenapa? Ada buku Pram yang murah? Barangkali Pram memang
deserves to reap the benefits after all these years.
Pembaca Pram adalah jelas menengah yang berupaya memahami sejarah yang konon ditulis dengan lebih jujur ketimbang buku-buku pelajaran sejarah resmi dari SD-SMA (dengan asumsi, sejarah di Universitas lebih analitik dan jujur). Sekali lagi, kalau sudah baca Pram lantas kenapa? Supaya bisa pamer? Dibilang pintar? Atau barangkali karena kita suka dengan label "gue udah baca Pram!".
Kalau tidak berjuang di sisi Pram, untuk rakyat banyak dan menentang kekuasaan, sulit bagi saya untuk membayangkan pembaca Pram memahami Pram.
Pribadi Pram itu hadir dan menyatu dalam tiap huruf di tulisannya. Membaca halaman demi halaman seperti melihat wajah uzurnya yang cuma saya kenal dari koran dan majalah. Begitu determinan,
strong-willed, influential
.
Seperti kritik Pram terhadap Ayu Utami yang dimuat Kompas Minggu beberapa masa lalu sebelum "Saman" dicetak Gramedia, "Saya tidak kuat meneruskan membacanya (Saman) karena penulisnya begitu kuat dan ada di mana-mana.." Kira-kira begitu komentar Pram soal Saman, sementara penulis-penulis lain ada yang bilang kata-kata Utami bercahaya seperti kembang di taman atau apalah saya sudah lupa. Komentar Pram cuma begitu. Ah Pram, emangnya elu enggak?
Gue nyesek baca Gadis Pantai! Kayak mau ujian Teori Marxis!
-dipikir di Brioche Doree, Blok M Plaza. ditulis di rumah, Jakarta, Rabu 27/03/02
Labels: life