east of the sun, west of the moon*
versi indonesia (indonesian version)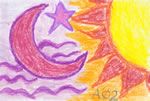 Kataku, "Kamu sudah melihat bulan malam ini?"
Katanya, "Aku tidak bisa melihat bulan dari sini. Kamu?"
Kataku, "Aku ada di timur matahari."
Katanya, "Aku ada di barat bulan."
Kataku, "Aku suka."
Katanya, "Kamu suka ada di sebelah timur matahari?"
Kataku, "Hanya kalau kamu ada di barat bulan."
Katanya, "LOL"**
Sebelum kusadari, aku tidak menyesal telah memasang peranti lunak untuk berkirim pesan secara instan. Sebelum kusadari, aku menyukai waktu macet pulang kantor yang memberiku beberapa jam lebih. Sebelum kusadari, aku naksir dia. Setelah bertukar isi hati selama enam bulan. Dia lucu, cerdas, perhatian dan segar. Agaknya dia memang dirancang untuk selalu muncul dengan bahasan yang aneh, kalimat sapaan yang pintar dan cara pandang yang menggelegar.
Aku masih di kantor hari itu. Baru keluar dari ruangan perang dan debat panas soal potong-memotong frame di footage berita yang akan tayang sore ini. Ya, sekitar dua jam lagi. Juru kamera ternyata merekam beberapa raw footage yang menarik. Tapi jurnalisnya mau menggunakan raw footage itu, sementara aku sebagai kepala departemen berita di stasiun TV swasta ini, punya pikiran berbeda. Aku mestinya jadi berani, menantang, analitis, sekaligus bijak. Tapi menurutku materi berita itu bisa menampar balik kami secara politis. Aku tidak butuh kekacauan macam begitu selagi rating acaraku bagus.
Kataku, "Halo, apa kabar?"
Katanya, "Aku bisa melihat gedungmu."
Kataku, "Aku tidak punya gedung, Sayang."
Katanya, "18 lantai, kan? Dengan neon sign besar perusahaan kamu."
Kataku, "Kamu bisa melihatnya dari tempatmu sekarang?"
Katanya, "Aku punya penglihatan 20-20. Aku tidak buta."
Kataku, "Adakah aku di timur matahari?"
Katanya, "Tidak, kamu di barat matahari."
Jantungku bergerumuh. Sebetulnya berdetak jauh lebih cepat. Dengan keriangan luar biasa.
Kataku, "Ada bistro di lantai satu gedung tempat kamu berada. Pai apelnya enak."
Katanya, "Menggoda sekali."
Kataku, "Lebih enak kalau dibagi dengan seseorang.."
Katanya, "..Selagi menatap sebelah barat bulan."
Kataku, "Ke mana aku harus mengantar?"
Dia memberiku nomor yang salah. Aku harus menelepon empat penyedia jasa telepon seluler untuk menghubunginya.
"Aku nggak yakin.." Katanya datar.
"Apa? Ayolah, kita sudah kenal selama hampir satu tahun. Aku minta bertemu di tempat umum."
"Tempat umum yang letaknya di sebelah gedung kantormu."
"Kamu tadi bilang tidak mau pindah tempat karena macet."
"Kamu pakai dasi?"
"Cepat ke sini dan kalau kamu tidak suka tampangku.." Aku ambil napas sebentar. "..yah lupakan aku."
"Sungguh? Rasanya kamu yang tidak berani melupakan aku.." Betapa menggoda!
Aku mengenali suara itu. Sedikit berat, tapi perempuan sekali. Aku memutar punggung.
Sekarang aku betul-betul naksir. Sebuah gambar bongkar pasang yang lengkap tergelar di hadapanku.
"Hai.. apa kabar?" Dia tersenyum. Dan aku jadi keju mozzarella di atas piza panas.
"Aku.. aku baik." Aku mencoba menyembunyikan semua perasaan yang campur aduk. Aku melihat kedua matanya. Raut wajahnya. Potongan terakhir gambar bongkar pasang.
"Kamu tidak baik-baik saja. Mukamu memerah.." Katanya manja.
Dibagilah tawa hangat. Bulan ada di barat.
Dunia di genggamanku kembali. Lalu-lintas e-mail yang muatannya melebihi e-mail rutin kantoran yang isinya kurang dari 10 kilobit, menjadi kenangan semanis dan sepolos kembang melati dan vanila. Aku benar-benar menghargai jempolku yang lincah menindas keypad pesawat 6250 milikku. Jantungku berdebar lebih kencang setiap kali kudengar suara bip halus penanda masuknya sebuah SMS dan sebuah lagi. Aku memilih memotong anggaran kumpul-kumpul dengan rekan sekantor setiap Jum'at sore dan menghabiskannya untuk telepon interlokal. Dia mengumpulkan dan membawa kembali remah-remah roti yang kutinggalkan sepanjang alur hidupku.
"Kalau ada penerbangan tengah malam, kita bisa melihat ombak bertemu secara horizontal di kaki-kaki kita."
"Kalau aku bisa menyisakan teguk terakhir kopi Irlandia hangat ini untuk kamu, aku ingin." (kalau saja kamu tahu bagaimana caranya)
Aku harusnya menghadiri acara peluncuran buku baru teman baikku. Tapi tampaknya tak ada yang perduli ketika aku melambaikan tangan pada sebuah taksi di luar pusat budaya.
Seribu bintang bersinar di matanya. Senyum yang begitu bercahaya menerangi patung raksasa yang berdiri sombong di atas bukit. Ada getaran halus di pahaku.
"Ya, pasti. Aku tidak akan lupa membelikan layangan Bali yang besar buat kamu." Ini suara beratku.
"Ya, Sayang, aku akan pulang sejam lagi." Ini suara beratnya, tapi perempuan sekali.
========================================
* terinspirasi oleh lagu Diana Krall, East of the Sun (and West of the Moon) dalam albumnya "Her Best"
** laughing out loud
jakarta, 06/11/02
Labels: writing